Wind measurement and simulation for project feasibility assessment of wind power generation


Services
Highly accurate wind condition surveys are important in the feasibility assessment of wind power generation potential and designing of wind turbines. Japan Weather Association (JWA) provides technical services in wind condition simulation based on the topography of the proposed project site, and wind condition measurements that comply with international standards and wind farm certification. This is useful for clients to conduct appropriate project feasibility assessment and design proper wind turbines.
Wind condition measurement compliant with international standards
Wind condition measurement at hub height is necessary for project feasibility assessment of wind power generation. For large wind turbines, the hub height tends to be over 100m in recent years. According to the international standards, wind measurements should be done at a height of 2/3 or more of hub height. This makes it difficult to observe wind conditions with high accuracy by a meteorological mast alone. JWA has been utilizing a Doppler Lidar to measure wind conditions in the upper atmosphere for large wind turbines since 2008. Thus, by using a combination of a meteorological mast and a Doppler Lidar, highly accurate wind measurements at higher heights can be obtained.

Application of wind measurement and simulation method
With wind simulation, it is possible to estimate wind conditions while considering the effects of topography. By combining the simulation and wind observation data, the annual power generation and operating rate can be calculated, and the results are utilized in the project feasibility assessment.
Wind measurement by a meteorological mast
According to international standards, a meteorological mast of about 60m above the ground should be used in  wind measurements meant for wind power generation potential assessment. This mast is equipped with three-cup anemometers and wind vanes to measure wind speed and wind direction respectively. In most cases, this is done at varying heights of 40m, 50m, and 60m.
Wind measurement by a Doppler Lidar
A Doppler Lidar is a remote sensing device that measures wind speeds and wind directions at altitudes that range from 40m to 200m. It works by transmitting short pulses of infrared laser light into the atmosphere to calculate frequency variation associated by the Doppler effect of backscattered light.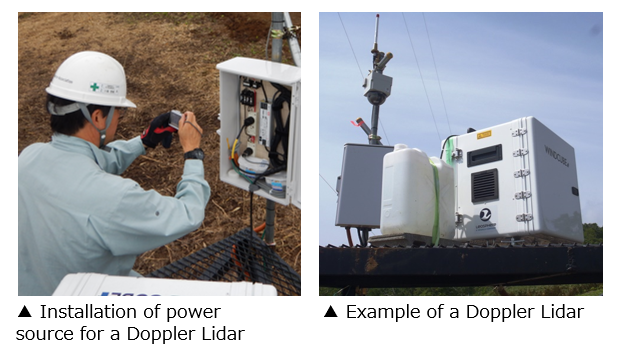 Implementation flow from wind measurement to project feasibility assessment
JWA uses its extensive experience to provide comprehensive support to the wind energy sector. This support covers multiple stages from planning/preparation to feasibility assessment, which implies that JWA can be a one-stop center for all the essential information required in designing wind power related projects.