Global Weather Data


Services
JWA provides global weather data from about 7,000 locations covering the whole earth.
The climate of Japan is affected by global-scale atmospheric circulation.
JWA has developed and provides original weather forecasts for approximately 7,000 locations around the globe through its eco + logi* project, a product demand forecasting service.
JWA develops and improves its accuracy of overseas weather forecasts and other data by using state-of-the-art technologies and its own methodology. With these efforts, JWA provides short- to long-term weather forecasts for the companies that have a contract with JWA.
Utilizing global weather forecast data will make it possible to efficiently design raw material supply and production plans as well as sales plans at company-owned overseas bases.
In recent years, companies have begun to analyze weather forecast data and sales data from their overseas offices to develop demand forecasts on a global scale for use in their businesses. JWA will be able to assist these activities from the standpoint of a weather consultant.
*logi stands for logistics.
Note:
1) Please include the name of your business's focus areas or cities in your inquiry. According to your inquiry, we will propose the types of weather data and demand forecasting services appropriate for your business.
2) Available data file formats: API, CSV, PDF/FTP, email, and others. The file formats will be negotiable.
Example of Application of the Global Weather Data to Demand Forecast
Demand forecasts for T-shirt in Europe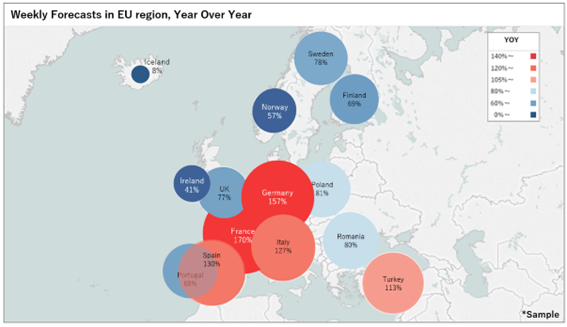 Features
Developed and improved its accuracy by using JWA's own latest technologies and methodologies.
Able to forecast six months ahead at maximum.
Locations can be selected from about 7,000 locations worldwide.
Purpose of Use
Acquiring overseas weather forecast data
PR and marketing by using overseas weather forecasts
Preliminary survey for the approaches to and expansion into overseas markets
Supporting the efficient design of production and sales plans by implementing overseas demand forecasts