POLARIS -The high quality API meteorological and oceanographic data for every need.


Services
Japan Weather Association started a new service: POLARIS, a weather and ocean data service for the maritime industry.
Meteorological and oceanographic data is essential and used in a wide range of fields: such as the assessment of efficient ship operation and its design, safe and energy saving voyage (reducing CO2 emissions), verification and assessment after voyage, and also working on IoS (IoT of ships).
We will support these fields with our POLARIS services.
For the new business in the maritime cluster, we are able to provide data by Web API.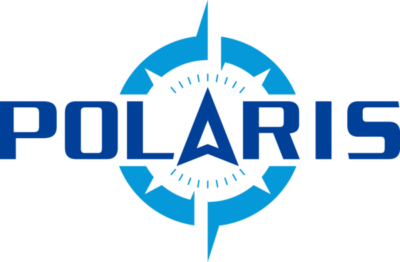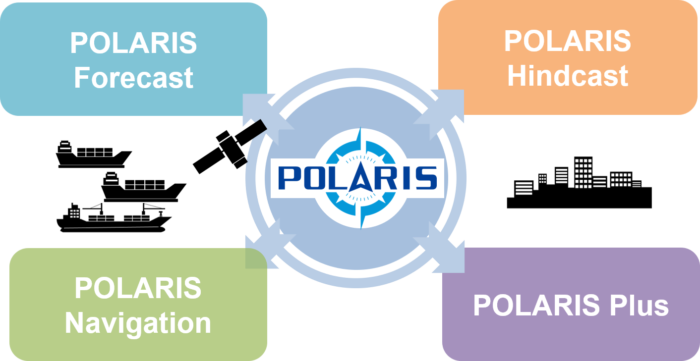 -Other movies about POLARIS are available here-
・Introduction of POLARIS series
・POLARIS Hindcast ; Overview and use cases

-Introducing POLARIS in manga-
Vol.1  – Introduction
Vol.2 – Route Planning and Optimization
Vol.3 – Ship performance evaluation on actual seas
◆POLARIS Forecast
POLARIS Forecast provides various kinds of weather and ocean forecast data on board.
You could download the application on your PC. It also covers spot-use.
*Global forecasts are up to 30 days.
*We could provide more accurate data for the oceans near Japan.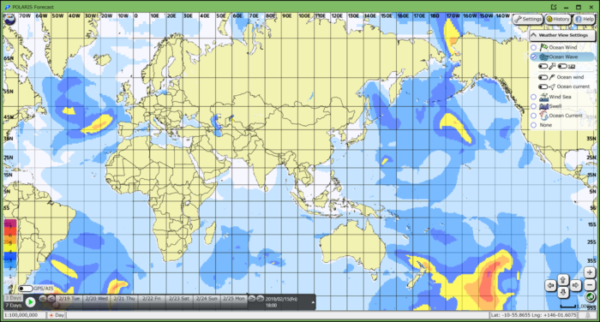 ◆POLARIS Navigation
POLARIS Navigation provides various kinds of weather and ocean forecast data and optimum route information on board. Same as POLARIS Forecast, you could download the application on your PC. It also supports import and export of route information with ECDIS.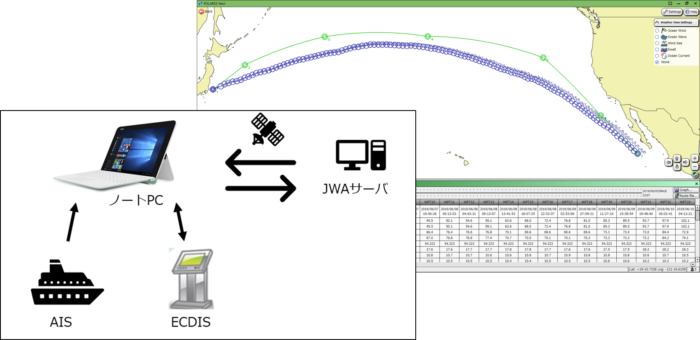 USE CASE:POLARIS Navigation
Usufuku Honten Co.Ltd "SHOFUKU MARU No.1"
SHOFUKU MARU No.1 is the first vessel built by Mirai Shipbuilding Co., Ltd. Due to the installation of the FX (Fleet Xpress) high-speed satellite communications system of Japan Radio Co., Ltd., the vessel is capable of large-capacity communications. This made it possible to use POLARIS Navigation services: voyage schedule assistance and weather and ocean forecasting data, without considering the data volume. By linking data with JMR-5400 radar, the optimal route planned by POLARIS Navigation can be exported. In addition, the route plan can be outputted from JMR-5400 to the autopilot. POLARIS Navigation can provide efficient operation by overall support.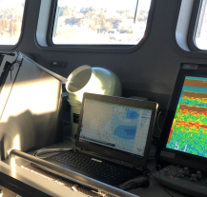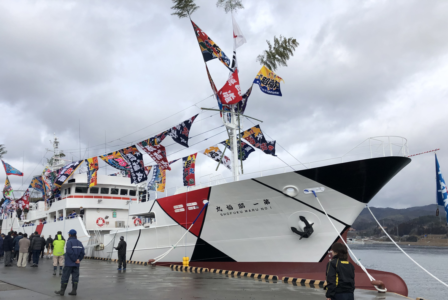 ◆POLARIS Hindcast "Re-analysis data"
POLARIS Hindcast provides various kinds of weather and ocean data associated by the ship's track via web API. The minimum time interval of this data is 10 minutes, and the shortest distance interval is about 20m. This global data could contribute to improve the fuel and operational efficiency of vessels.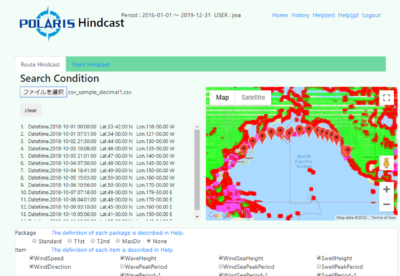 USE CASE:POLARIS Hindcast
OCTARVIA Project
The OCTARVIA Project is a collaborative maritime cluster study aimed at creating and objective "measure" for assessing a ship's actual sea (fuel efficiency) performance.
The purpose of this project is to develop a method for accurately assessing ship performances, such as speed and fuel efficiency (actual sea area performance) in the weather and sea conditions during the actually operations.
JWA has been participating since the beginning of the project and providing POLARIS Hindcast, which is indispensable for performance analysis in the actual sea area.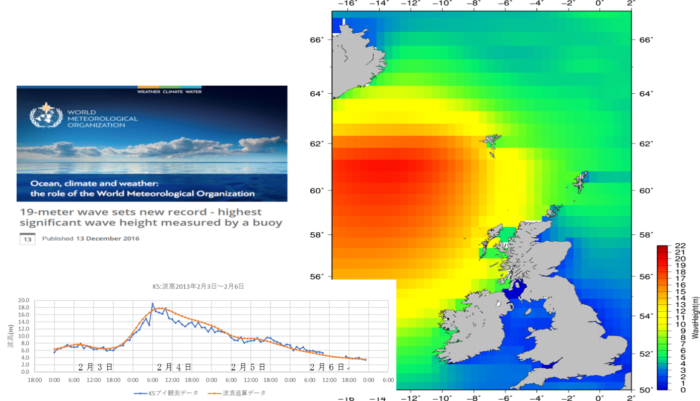 POLARIS Plus "Monitoring service"
POLARIS Plus is a web service. It monitors the vessels which have installed POLARIS Forecast or Navigation. Scheduled for release later in 2020.

All of the POLARIS services could be linked to existing systems, access directly to APIs, or use only for the engine. Please contact us for any questions.
About POLARIS Team
Dr. MATSUURA Kuniaki
Project Manager of POLARIS
Social and Disaster Management Dept.

Brief Biography:
Joined JWA in 1994.
Engaged on the surveys of offshore winds, waves, tsunamis, storm surges, etc.
After working as a project manager of the construction project for ANA Aeronautical Meteorological System, he has been in charge of POLARIS projects since 2016.
Dr. SATO Yoshiko
Sales Manager of POLARIS
Social and Disaster Management Dept.

Brief Biography:
Since joining JWA in 2010, she has been in charge of research and development of weather routing for coastal vessels. Since 2016, she has taken advantage of this experience to participate in the development of POLARIS and is currently in charge of sales.