Meteorological Observation


Services
Japan Weather Association has extensive experience in handling meteorological observations around the world. We support infrastructure projects, research activities by public organizations, and also private business investment by providing suitable methodologies tailored to the customer needs.
Meteorological observation
Climate change has led to severe weather phenomena in various areas never experienced before. It is therefore important that current weather conditions be assessed with proper observation methods to conduct secure investment projects. Recent technological advancements have made it easy to use both direct observation and remote sensing methods. Since meteorological conditions depend on the topographic and climate situation of the project site, we need to identify the suitable method based on such situations.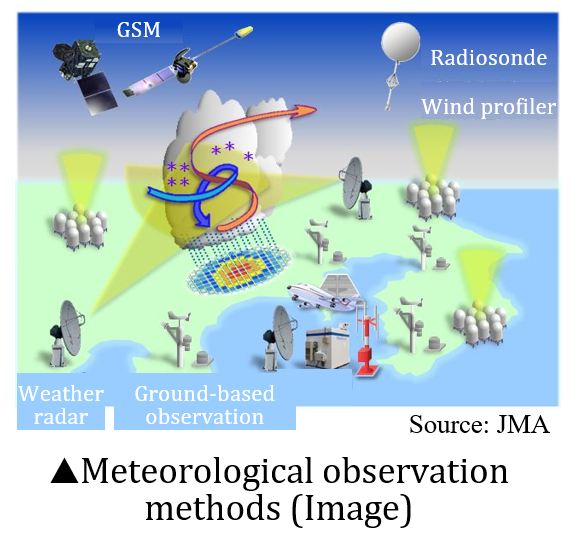 Ground-based observation
Under the national and international regulations, proper Environmental and Social Impact Assessment (ESIA) is required for any investment or development project. Ground-based observations are basic observation methods for the forecast and evaluation in ESIA. Available meteorological information such as wind at the project site, diffusion of air pollutants from either stationary or mobile sources can be analyzed by air diffusion models.
Ground-based observations make it possible to reach direct physical parameters like wind direction and speed, temperature, humidity, solar radiation, net radiation and precipitation.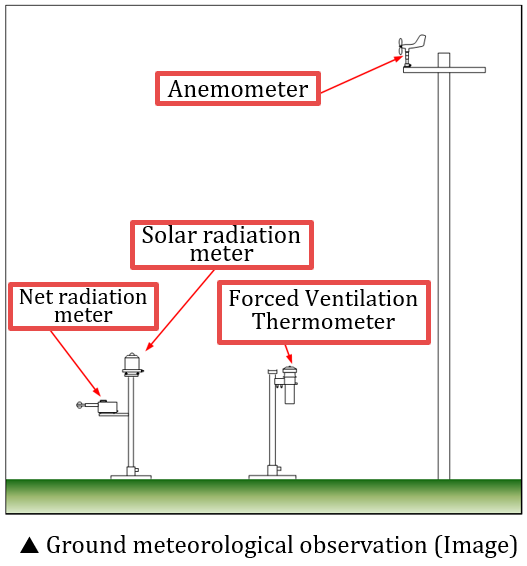 Remote sensing observation
■ Wind observation
Meteorological observation towers (met mast) are used as standard tools for wind observation, and their heights (due to technical constraints) range from 40 to 100 meters.
Doppler Lidar, which observes wind conditions with an eye-safe wavelength laser beam, is used as an instrument for wind observation in wind and thermal power construction projects. Its characteristic feature is that it can continuously observe the wind at a height of more than 100 m above the ground.
Scanning Doppler Lidar is the Doppler Lidar that can observe wind conditions in a horizontal direction. Scanning Lidar observes wind conditions around the point where laser beam is illuminated in a radius of less than about 10 km from Lidar station.
The data obtained by Scanning Lidar is important in the feasibility assessment of power generation potential of offshore wind farms.
In the field of wind power generation (wind farm), there are official certificates such as NK wind farm certification(ClassNK). In order to obtain such certificates, wind data observed with met masts at 2/3 of the hub height is required, though the hub height is likely to be more than 100m for large wind turbines.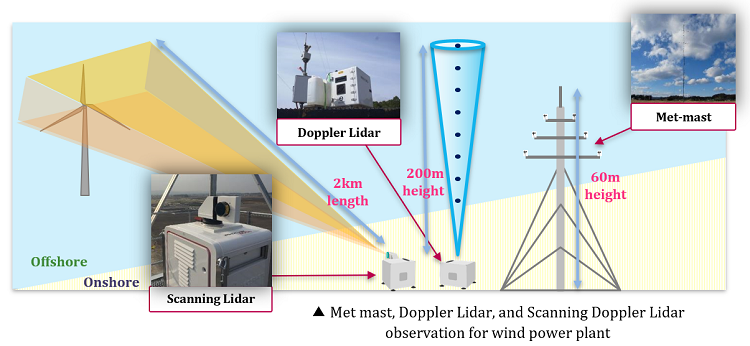 ■ Rain observation
Weather radar is used to obtain rain observation data and should be calibrated by the ground rain information such as that obtained by using rain gauges. Dual polarization radar can estimate highly accurate precipitation without calibration using ground data.
The suitable radar observation sequence for a target phenomenon is essential to monitor with high accuracy. Technical cooperation by Japanese ODA scheme provides such know-how to various countries which have high risks of tropical cyclones or severe rain.