2022 Cherry Blossom Forecast (Part 3):
First Blossoms to Expect on March 20th in Kumamoto and Ehime.


Press Release
On Thursday, March 10th, 2022, Japan Weather Association (JWA) announced the forecast of the dates when cherry blossoms will bloom at 89 locations throughout Japan.
Blossom Forecast Map 
Forecasted Blossom Date (Main Locations)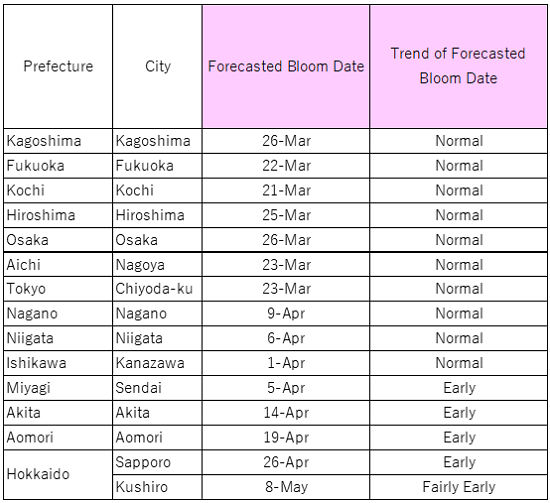 Forecasted Full Bloom Date (Main Locations)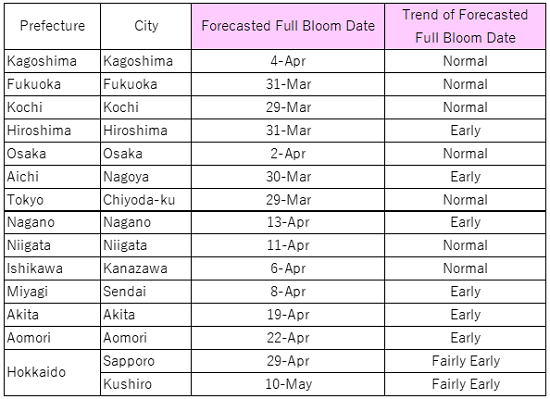 | [Explanation of Terms] | |
| --- | --- |
| Normal | The average for 1991–2020 |
| Fairly early | At least 7 days earlier than normal |
| Early | 3 to 6 days earlier than normal |
| Nearly Normal | Within 2 days of normal |
| Late | 3 to 6 days later than normal |
| Fairly late | At least 7 days later than normal |
Blossom Trends
The earliest blooms will likely be in Kumamoto and Uwajima-shi (Ehime) on March 20th. The blossoms are expected on 21st in Kochi, on 22nd in Fukuoka and Shizuoka, and on 23rd in Tokyo.
By the end of March, blossoms will likely occur in a wide area from western to eastern Japan. In Hokuriku area, Nagano, and Tohoku area, cherry blossoms will likely bloom from early to mid-April.
The cherry blossom front will arrive Hokkaido in late April. Blossoms will occur in Hakodate on April 25th, and Sapporo on 26th.
Full bloom date will likely be normal from Kyushu to Kanto Koshin area in late March. In Tokyo, the full blooms are expected to start on March 29th. It will be earlier than usual in Hokuriku and Tohoku area. In Hokkaido, the full bloom date will likely be 10 days earlier than usual and expected from late April to early May.
The forecasted blossom dates for cherry trees in all 89 locations are available on the cherry blossom forecast page (https://tenki.jp/sakura/expectation/) of "tenki.jp," the weather forecast media operated by Japan Weather Association (Japanese only).
Originally released in Japanese on March 10th, 2022
PDF DOWNLOAD:2022 Cherry Blossom Forecast (Part 3)