Weather Forecast in Taxi Signage, "Tokyo Prime"


Press Release
From April 12, 2021 Japan Weather Association (JWA) has started providing weather forecasts to the taxi signage media "Tokyo Prime". "Tokyo Prime" is a digital signage media in a taxi which operated by IRIS Co., Ltd.
JWA has been providing weather forecasts for digital signage in trains, cars and on the streets, mainly in Kanto and Kansai areas. This is our new attempt to collaborate with taxi signage for nationwide.
In addition to weather forecast, we will provide 7 index information: washing index, pollen information, sweating index, WBGT (Wet Bulb Globe Temperature), catching a cold index, UV index, and dry skin index.
1. Screen Images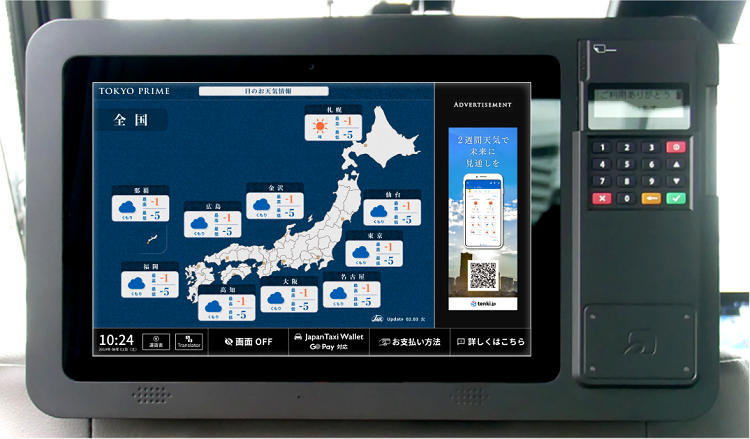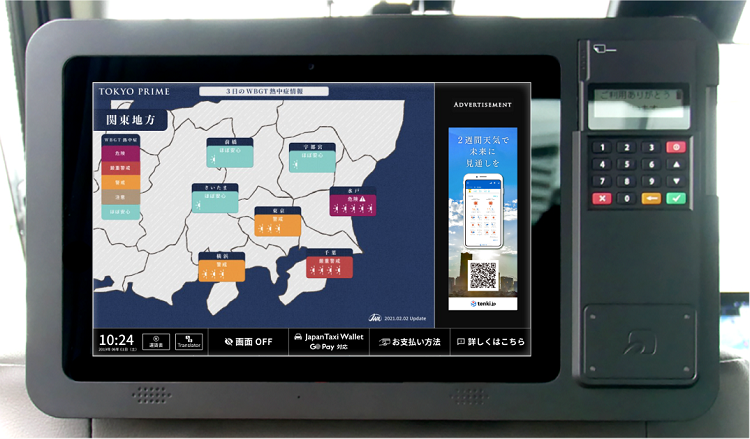 2.Service Summary
■Target Area:12 cities(Hokkaido, Miyagi, Tokyo, Kanagawa, Saitama, Chiba, Aichi, Osaka, Kyoto, Hyogo, Hiroshima, Fukuoka)
■Contents:Weather forecast, highest/lowest temperature. (Index information will be released from July 2021.)
■The service starts from April 12th 2021.
■Target Taxi:About 51,000 taxies in Japan, mainly belonged to Nihon Kotsu Group.
Originally released in Japanese: 2021/04/05
PDF Download :  Weather Forecast in Taxi Signage, "Tokyo Prime"