Autumn Leaves Forecast 2021 Mostly Same as Usual Years for Best Time to See


News
Japan Weather Association (JWA) released the Autumn Leaves Forecast 2021. This year, we plan to release our Autumn Leaves Forecast in Japanese on September 30th, October 14th, and November 4th.
In tenki.jp, our weather forecast website, we provide fall foliage information in 775 spots all over Japan.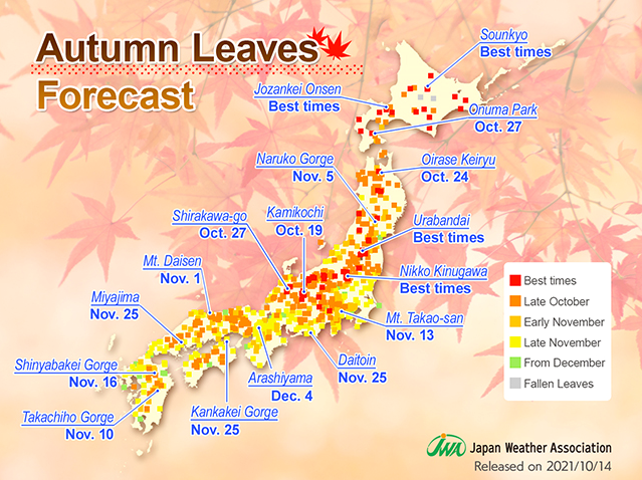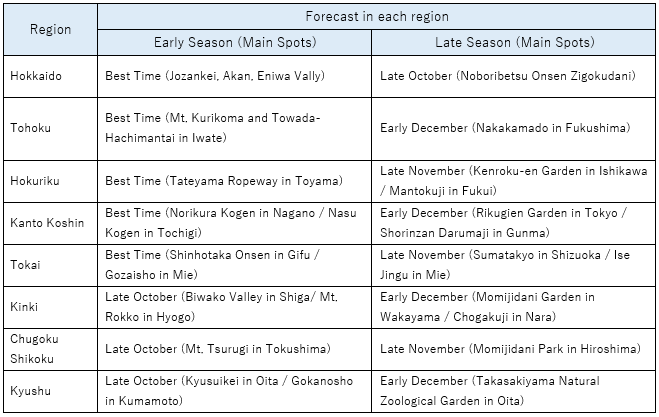 【The best time forecast in nationwide】
The best time to see fall foliage is affected by temperatures from September to November. When temperature is low, leaves turn red early and when temperature is high, leaves turn red late.
This year, temperatures will tend to be higher in the second half of October all over Japan, but there will be periods when they are lower than normal due to cold air moving in. From November onward, it is expected to be slightly lower in eastern and western Japan. This makes the best time to see fall foliage same as usual in most of famous spots.
【Fall foliage information in tenki.jp】
*Only in Japanese.
Tablet / Smartphone: https://tenki.jp/lite/kouyou/
Originally released in Japanese: 2021/10/14
PDF DOWNLOAD:Autumn Leaves Forecast 2021_Mostly Same as Usual Years for Best Time to See